Posted by
Shawn
in
Uncategorized
This years trip to All Star Bash at Willow Springs was most definitely the best trip to date.
The trip begun from Drift Union's home base in Kelowna B.C. Canada on Oct 13. The first leg of the journey brought us 7h's from home to a friends place just outside Seattle for a "Watch Formula D Irwindale" party. After multiple beer runs and 13 large pizzas, the weed wacker vs vacuum fights begun, later followed by a game of 'hide a guy from a crazed girl friend under a table'.
From Washington we then blazed down to Mt.Shasta in Northern California to relax for the night and try to figure out what we were going to do for the rest of the week.
We ended up deciding to go for a day trip into San Fran to go see what all the fuss was about. So we grabbed a hotel in Vallejo after getting pulled over doing 75 in a 55, rented a 12 passenger van and took off to spread some DU/DTA love in the bay area.
After doing handstands in front of the golden gate, seeing the stinky ass sea lions, taking the 12 passenger van down Lombard St (little sketchy) trying to do break stands in the van then jumping it, we retired back to the hotel.
While sitting on the Hotel Wifi we found out Infineon had Wednesday night drifting. We have been looking forward to drifting at ASB all year and have the cars in good running order for it, so we decided "hey, lets go drift 3 days before ASB 16 hours from home!" We got to the track early and got to watch a GoPro release demo for GoPro's new Hero 3, put on by Tyler Mcquarrie.
As the event got going we were welcomed with open arms by a bunch of super rad locals and had a blast driving with a bunch of new drivers! We have never drifted a skid pad before, and to be honest it was weird to get used to. As we got used to the track and started to tighten up the tandem Shawn and Logan transfered some paint resulting in the RX7s rear suspension getting bent to shit. So after bending it all back the best we could we decided to call it a night and save the cars for ASB.
From Infineon we went to spend a night at Yo's house and check out the DTA store in Venice Beach. Was an awesome night grilling up some chicken, house looked straight out of the Fast and Furious with the cars out front.
Friday came and we made our way to Willow Springs Raceway to get set up for the weekend.
Saturday was a blast, drove streets of willow all day with friends we only get to see once a year at this event. Every year ASB has a Team Tandem comp when the sun goes down on the first day. Last year we were able to win the comp so we had to try our best to hold onto the title for yet another year.
We had 3 runs, best run of the 3 counted. Our first run had an oil drenched track and wasn't any good. Second run we did ok but for sure wasn't a "winning" run. So for our 3rd run we knew we had to go balls to the wall.
As soon as we finished the 3rd run we all started fist pumping and getting buck. We all knew it was a good run, but still had no idea how the other teams did. Ended up being enough to hold Team Tandem champs for another year.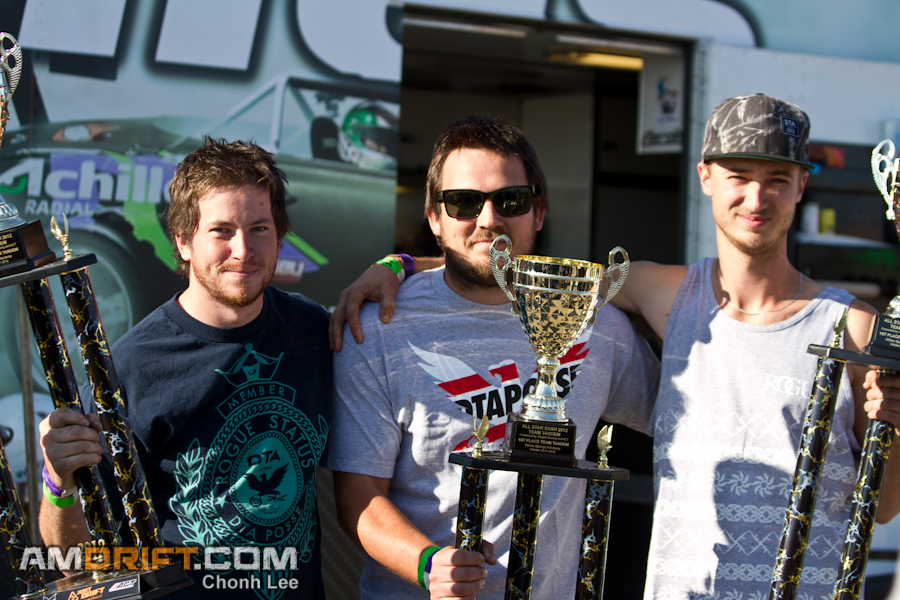 After about 30 tires down to cords and swapping paint with a few Formula D cars, we made the 24 hour drive back to Canada. From 110* to -40 in 2 days.
This trip was by far the best to date. Met so many cool new people, got to do some very cool things. Drift Union would like to thank everyone who has supported us by buying stickers, liking our Facebook page, watching our videos or just coming up and saying Hi. We have the best posse of followers and would be nothing without you guys.
Lastly but not least, we would also like to thank all the guys that make DTA what it is. Has been a great year, can't wait to see what the next few have in store.